Wanted: narrator for Ariadne Rediviva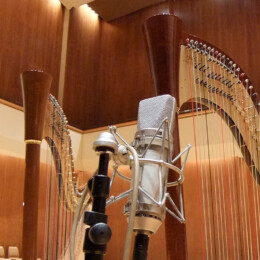 The Atlantic Harp Duo is looking for someone to be the « voice of Ariadne ». As the development of Ariadne Rediviva progresses, it will soon be time to record the narration for use in the show, and we need to find the right voice for this role. That's why we're reaching out to you, to ask if you would like to be a part of this project.
What's the story?
This narration will be the central element of a full-length, multi-media show, produced by the Atlantic Harp Duo: Ariadne Rediviva. The show tells the story of Ariadne, from ancient mythology. The narration is an original epic poem, about 20 minutes in total, which recounts the most important episodes of Ariadne's life: her beginnings as a princess of Crete, aiding Theseus to defeat the Minotaur in the labyrinth, her abandonment on the island of Naxos, and then her marriage to Bacchus, the god of wine and revelry. To read more details about the show, visit Ariadne Rediviva.
What are we looking for?
We want the reading of the narration to create a storybook atmosphere for the audience. We are searching ideally for a female narrator, with native or near-perfect English, who speaks with an « international » accent (non-region-specific). We are also hoping to find someone who loves telling stories and whose expressive interpretation will capture listeners and draw them into the story.
So what can you do?
If you are interested in recording with us, please let us know! We would love to hear your voice and see if it matches the feel that we're looking for.
Send a message to info@atlanticharpduo.com and let us know that you're interested.
We will then send you the first few paragraphs of the show's narration.
You can read it and get a feel for the kind of storytelling it will be.
You make a sample recording of yourself reading the narration and send it back to us.
Once we have found the perfect voice for this project, the final recording will take place sometime in June, at a date that is convenient for you. If you live near Utrecht, then your recording session will be hosted by Elizabeth. If you live near Paris, then your recording session will be with Marta. If you live somewhere totally different, this is still possible as long as you have access to professional recording equipment and a quiet recording space.
A note about reimbursement…
We cannot offer payment for this job. However, your name will be credited in our program; the show will be premiered in Australia and performed internationally. This is a great project for anyone wanting experience and exposure as a voice actress, or even anyone just wanting to have a fun experience! Here's what we can offer:
a fun afternoon of recording, where all you have to worry about is telling a story
all the free food, treats, and drinks you like while we're recording
free CDs of the Atlantic Harp Duo
two free tickets to the premier of the Ariadne Rediviva show in your area.
Looking forward to hearing from you,

Elizabeth & Marta

«